Being an avid golfer living in the Pittsburgh area, I've been able to play a lot of different golf courses. The unfortunate thing about being a golfer in Pittsburgh is that many of the courses are private facilities and traffic getting to any course is no fun. The below list highlights some of the best public golf courses in Pittsburgh (within 45 mins). I chose courses within 45 minutes because that is how far I am willing to drive on an average day to play a regular weekend round of golf.
1) Olde Stonewall – Ellwood City, PA – 43 Mins from City Center - Olde Stonewall Golf Club rises from the banks of the Connoquenessing Creek, up over wooded hills to a soaring promontory. A 7,100-yard golf course, nationally acclaimed masterpiece by world-renowned course architects Dr. Michael Hurdzan and Dana Fry that has won honor upon honor from the time it opened in 1999. Among the honors: In Golf Magazine, "Top Ten New Courses 1999." In Golfweek, "America's Best Courses, State-by-State." In Golf Digest's rankings, "Number One Public Course in the State," "Best Courses in the State," and "America's 100 Greatest Public Courses." By the time they had finished working their architectural magic, huge cubes of stone were winding their way around and through the course, lining tee boxes, cart paths and water hazards. Olde Stonewall is true to its name by some 750,000 tons of these formidable stones. The introduction to Olde Stonewall is the towering clubhouse. It dominates the setting – an imposing 33,000-square-foot gray castle high above, with pennants flying from the turrets. In season before 1pm, this course will set you back a hefty $160 for this precious gem. Learn more about Olde Stonewall.
2) Totteridge – Greensburg, PA – 39 Mins from City Center – The mission of Totteridge is to grow and steward their community where friends can live and play. We feel Totteridge is one of the best public golf courses in Pittsburgh given the course is proud to offer the best panoramic views in Western Pennsylvania for golf and life. When Rees Jones and Tom Tanto built Totteridge Golf Course, they started with just a dream. Though both had worked on golf courses all over the globe, they believed they had the experience to create something special. The design philosophy of Rees Jones is to create courses that are fair, continually interesting to play, and visually exciting. At Totteridge, Jones succeeded in fulfilling his design commitment. As his first endeavor in western PA, the 18-hole, links-style layout takes full advantage of the rolling hills and breathtaking vistas. Elevated tee boxes, natural fairway mounding, selective bunkering, and fast greens provide an enjoyable challenge. Totteridge may be best remembered for its open links style golf in gently rolling hills and vistas. To play here will cost you $69 in season. Learn more about Totteridge.
3) Cranberry Highlands – Cranberry Township, PA – 30 Mins from City Center – Cranberry Highlands, the region's premier public golf course, celebrates the area's natural challenges with a stunning 186-acre course created to provide a high-quality test of golf for players at every level. Built on a landscape surrounded by wooded hills and punctuated with steep ravines, Cranberry Highlands is a generously proportioned, par-70 course following the contours of woodlands and fields. Featuring 90 deeply sculpted sand bunkers and water hazards with more than 70 separate tee areas, Cranberry Highlands offers a demanding course with fairways and roughs outlined in 14 varieties of grass. From its front tees at 4,769 yards, to its championship back tees at 6,513 yards, players will find a readily walkable course, discretely linked by cart paths, ringed in the timber-stock that defines the region. This will set you back $70 on the weekend. Learn more about Cranberry Highlands.
4) Champion Lakes – Bolivar, PA – 65 Mins from City Center – As mentioned above, I know I wouldn't dare drive more than an hour for golf. But this golf course is the exception every time. Champion Lakes has earned a reputation as a country club open to the public. Its well-groomed greens and fairways reflect the pride and dedication of original owners Dick Groat and Pittsburgh Pirates teammate, Jerry Lynch. Groat and Lynch converted the course from an apple orchard and hand-built Champion Lakes into the masterpiece it is today. Champion Lakes is a wooded 6,608 yard layout with tightly tree-lined fairways and challenging, but always-meticulous greens. The strategically placed lakes and pins present a challenge for even the most competitive golfer, a true testament to the course record of only 5-under par, held by PGA Tour Professional Rocco Mediate, and golf legend Arnold Palmer's low round of 68. Learn more about Champion Lakes.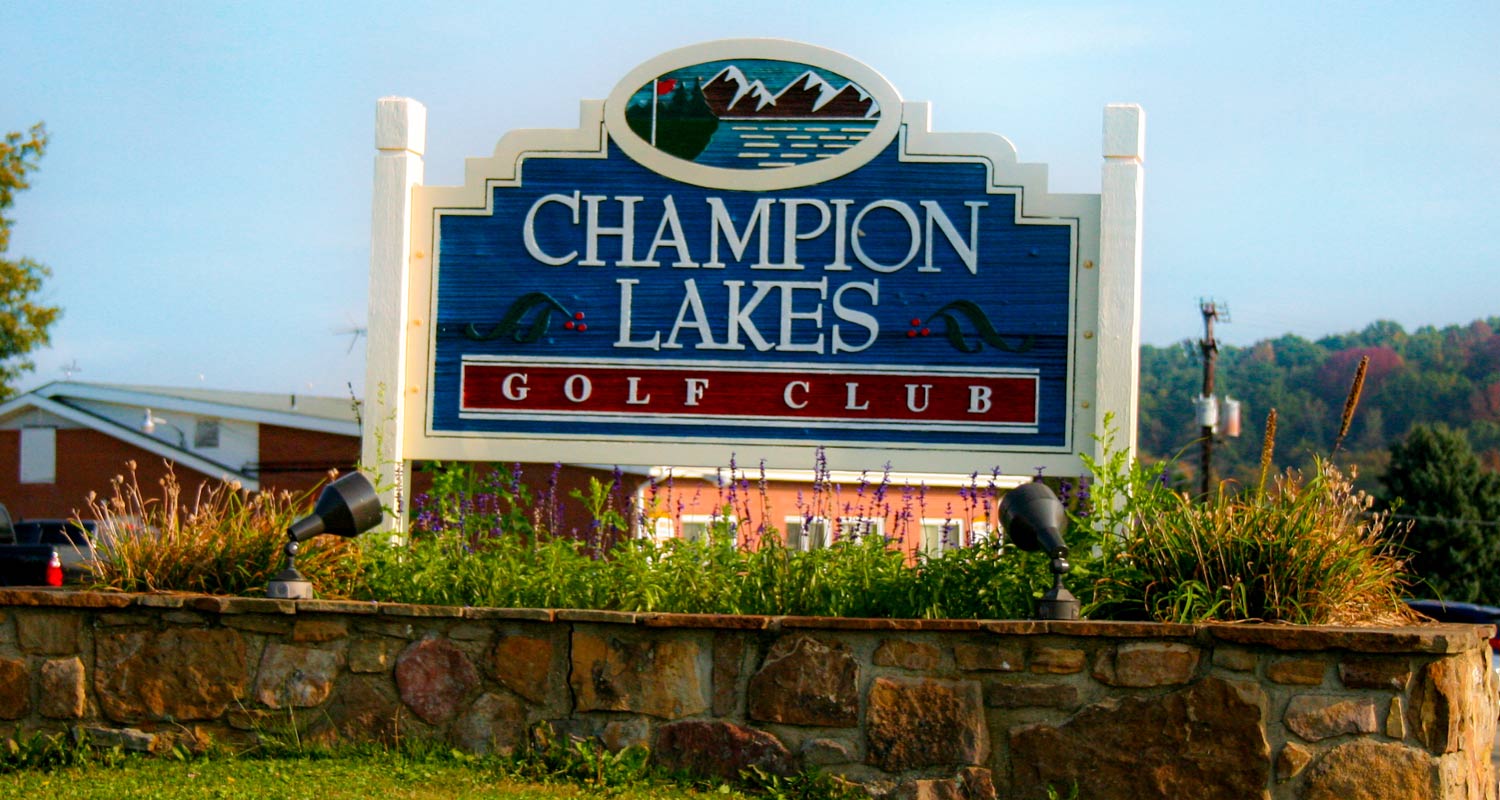 5) Butler's – Elizabeth, PA – 35 mins from City Center – Opened in 1928, Butler's Golf Course features two 18 hole golf courses, the Woodside and Lakeside. Woodside, featuring many of the original holes, is a par-72, 6,314 yard layout routed through woods and overlooks the Youghiogheny River. With gently rolling terrain and classic design features, Woodside has been a favorite for golfers of all abilities for more than 83 years. Golf Digest calls the final stretch, holes No. 16 through No. 18, "amongst the best three finishing holes anywhere in Pennsylvania." Lakeside, at par 72, 6,689 yards, opened the front nine in 1963 and the back in 2000. With dramatic vistas, elevation changes, and no parallel fairways, golfers' senses pique from the first hole. The par-4 No. 14 and No. 16 holes slope downhill with fantastic views of the surrounding valley. Generous landing areas with few blind shots and sidehill lies make Lakeside a popular choice for golfers. For this golf course, $50 on the weekend is a steal. Learn more about Butler's.
6) Grand View – Braddock, PA – 17 Mins from City Center – Grand View Golf Club is a unique, challenging layout of eighteen superbly designed golf holes that will test the shot-making skills of the accomplished golfer – yet it is kind to the average golfer who simply wants to enjoy a pleasant, relaxed round of golf. Carved out of a 160 acre mature woodland hilltop, Grand View offers spectacular panoramic views overlooking a wide expanse of the Mon Valley… including the Edgar Thompson facility, the first and last major steel mill in Western Pennsylvania. This distinctive, 18 hole, Par 70, 6,111 yard layout gracefully winds its way along tree-lined fairways and undulating greens atop Matta's Hill. Each hole at Grand View presents an interesting challenge, highlighted by its unique topography and variation of terrain. The general flow and dynamics of the course layout are accented by level target areas and a number of elevation changes from tee to green that are specifically designed to influence club selection and precise shot making abilities. Bent grass greens and tees have been built in strict compliance to USGA specifications and standards. A driving range and 4,100 sq. ft. putting green combine to offer a rewarding golf experience. A round at Grand View is a modest $50. Learn more about Grand View.
7) Quicksilver – McDonald, PA – 25 Mins from City Center – Tucked among Western Pennsylvania's rolling hills, you'll find the fairways lush and the greens fast and true. Quicksilver Golf Club offers the best quality golf facility at affordable prices. They are proud that their award-winning course has been host to the Senior PGA Tour and the Ben Hogan Tour (now the Korn Ferry Tour). With generous fairways, receptive greens and the best course conditions in Western Pennsylvania, Quicksilver Golf Course is impeccably maintained for your pleasure and is open all year. To play in season will cost you $70. Learn more about Quicksilver.
I hope you enjoyed this article about the best public golf courses in Pittsburgh. Since Pittsburgh has a colder climate during the winter, you may want to find the best indoor golf places in Pittsburgh.